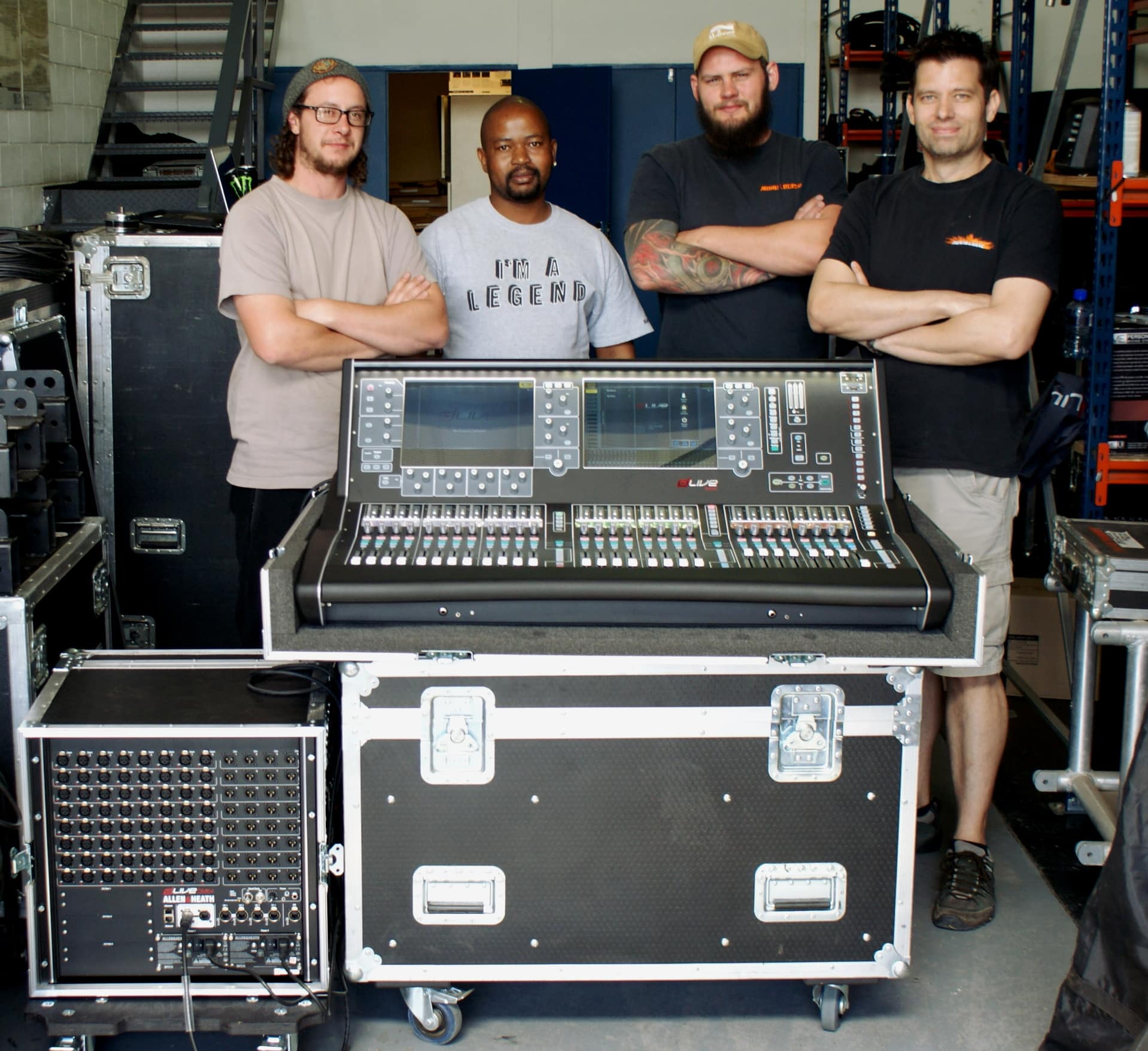 Life is full of difficult choices. Buying an Allen & Heath DLive isn't one of them.
Marius Marais is one of the mainstays of the South African live sound reinforcement industry and his company, Audio Logic, is at the forefront. His experience as one of the best our country has to offer is known far and wide, along with his dedication to detail, his highly effective team and their soaring professionalism.
So what his company been involved with, you ask? Well, his client list includes such names as Idols, the South African Music Awards (SAMAs), Skouspel, the FIFA World Cup 2010 and many others that have become household names. Indeed, events such as these require the best of the best to keep the show on the road and as they say, the proof of the pudding is in the eating. It tastes good!
Marius has used a plethora of consoles over the years steered by his discerning tastes and it shows when it counts, which is all the time. He knows exactly what he wants and needs out of a console, so when he purchased an Allen & Heath DLive from Audiosure, heads were turned and interests were piqued.
We caught up with Marius at his offices in Centurion to discuss why he chose the DLive and what benefits it provides him over other consoles.
"The main reason why I went with the DLive is because it was a rider-driven choice and because a lot of the work we're involved with is coming from Australia and this is the console that they spec. Also, the [Allen & Heath] ME-1 system integration is important, as is the versatility of the console and built-in plugins. It was a no-brainer for us to get the system together for them."
Audio Logic owns three full ME-1 systems – totalling thirty units – and it's a huge part of their business to provide hassle-free, effective personal monitoring for their clients. Currently Marais has all three systems out at various venues and shows such as the Atterbury Theatre, Idols and RMB Starlight Classics, the latter's system carrying over to the Joy of Jazz festival. The ME-1 system's seamless integration with the DLive is a workflow-enhancing plus that cannot be denied and Marais is very happy about this fact.
Currently Audio Logic's DLive is being used on the South African State Theatre production of Saturday Night Fever and will be used again on another production in mid-December for a nine week run, for which the console was originally spec'd. But the rider spec was not the only reason Marais was drawn to the console.
"My crew raves about it and they say it's the best thing ever. Eventually we'll have to look at another one for a monitor console and share gain. I think it's brilliant the workflow on it is awesome. The on-board plugins are nice and the EQ is really, really nice. It reminds me of the old Allen & Heath GL4000, which was one of the analogue boards with one of the smoothest EQ responses in those days. Then, the workflow; it's simple, it's straightforward, it's not complicated. You can spend ten minutes on it and you can help yourself. The effects engines are really nice, too. I think it's a very, very logical thing to go for from a performance and cost point of view for any rental company."
Marais goes on to say that he is confident that in the near future the DLive will be a highly sought after rider-driven console as he's aware of three international shows that are touring with it currently.
In terms of input count, the DLive has all and more you will need both for FOH and monitors. Marais explains: "Well, you have 128 inputs if you add another stage box so for the purpose we bought it for; around 88 or so inputs for a large musical, it's perfect. But now I can also throw it at a large corporate. You are able to do things like drop inputs and matrices and use those outputs for additional auxes. This versatility means it can be used as a very powerful console for both FOH and monitors. I'm very, very chuffed with the console and I've already allocated it to three big gigs, one of which is in Namibia."
Lastly, support is a huge issue for many clients at this level so we asked Marais about his experience with Audiosure thus far. We were honoured by his response.
"Gareth Edwards is always there, no matter what you need. You pick up the phone and he's there", remark Marais. "He's a phenomenal, supportive human being that follows up non-stop to make sure everything's cool. It's been a pleasure to work with Audiosure. We started with Saturday Night Fever and a spec and the next thing we know, we needed more inputs. I phoned Gareth and he said, 'no problem, we'll bring through another smaller stage box for you.' Nothing's been a problem and it's been an absolute pleasure."
We wish Marius and his team many, many years of happy eventing with the Allen & Heath DLive!