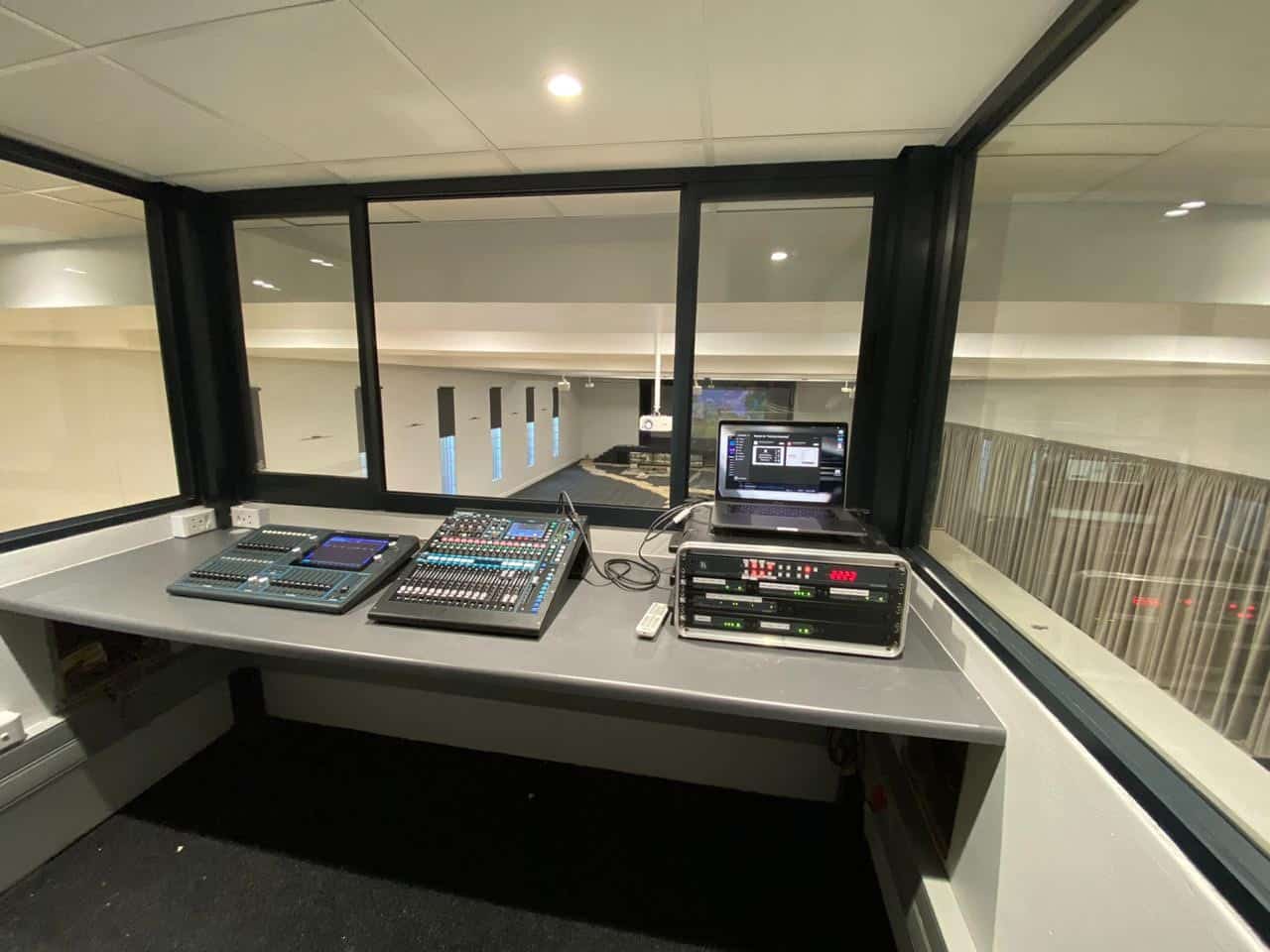 Clifton School, the independent boys' school in Durban, offers a world-class education for boys from Grade R through to Grade 12. The school had recently renovated their Ken Mackenzie hall, and were looking for a complete, high-end AV solution that would serve them well into the future.
Greg Payne, Sales and Marketing Director at Audiosure says that Clifton had approached Audiosure to supply, install and commission a turnkey AV, lighting and audio solution for the school's beautifully refurbished new hall. "Our team of Product Specialists came up with a solution that perfectly complimented the hall, whilst delivering superior quality all round," stated Greg.
"We wanted to achieve a high quality, full frequency audio experience with the use of Martin Audio processing and CDD coaxial technology," says John Greaves, Audio Product Specialist at Audiosure. "We always try to offer no compromise solutions that will stand the test of time. I feel like we achieved that with the inclusion of subwoofers, delay speakers, limiters and presets".
From an audio control point of view, Digital Mixing Product Specialist Marc Paynter was adamant in offering new solutions to the way in which schools look at generic, old-school mixing solutions and analogue snakes. Allen & Heath digital mixing systems offer just that, an ease-of-use solution which allows a stage box to be connected to a digital mixing console through a single ethernet cable, as well as allowing the users to recall pre-saved show files and essentially configure the system to their own needs. An Allen & Heath Qu-16 and AB168 stage box was selected and installed.
Audiosure's Lighting Product Specialist designed the lighting solution for the new hall. Clifton wanted the best possible lighting fixtures which could provide the best overall colour references and still have the ability to recall various white colour temperatures at the same time. In order to achieve this, twelve Ovation P56FC and five Ovation P56WW from Chauvet were selected to provide a highly-efficient, even light coverage across the stage. The Intimidator Spot 375Z LED's moving heads were also provided in order to reach certain parts of the stage for any sort of future production. Great care was also taken to provide the school with a flicker-free lighting solution, perfect for any future live broadcasting or video recording that may occur. A ChampSys QuickQ 20 lighting controller was also installed to allow for easy access and control of the entire lighting system – simple for anybody to use.
A total of four projectors were strategically placed throughout the hall, which allowed for any projection to be seen and heard clearly from all comers within the venue. These included three Vivitek DH4661Z and one additional Vivitek DU4671Z. Two motorised 150" Grandview screens were installed on each side of the stage. An additional 32" LED panel was installed into a custom box with casters, to act as a confidence monitor for the speaker. A Lumens VC-B30U was also installed to display a live image of the speaker on the projector screens in order for the people at the back end of the hall to see. A Kramer ecosystem was installed to control the complete AV system. This system includes a 4×4 Matrix, installed at FOH, which allows for seamless switching between various input and output sources.
Audiosure partnered with MGM Music Solutions – a Durban-based audiovisual company, for the installation of this particular solution. Marcel Maddocks, owner and Managing Director, said that it was a pleasure to be apart of such a great team. "Audiosure and MGM have had a great working relationship over many years, and we are proud to be a part of this particular install for such a prestigious school," says Marcel.
Audiosure and MGM Solutions had to synchronize their installation schedule with a number of contractors on site. Fortunately, Audiosure was able to work alongside the contractors to make sure any potential structural or electrical issues for the AV solution were mitigated. The Audiosure Product Specialists were also on site to assist with the installation, as well as to provide training and commission the solution once complete.
Greg Payne said, "The highlight for me was when we commissioned the system and demonstrated to the team at the school just what the entire system could do. As we moved from video to audio to lighting, their faces said it all. They were really pleased with the final result." Greg added, "delivering such an amazing turnkey solution to such a wonderful school is really something that keeps us passionate and we are so pleased that Clifton School gave us this opportunity."