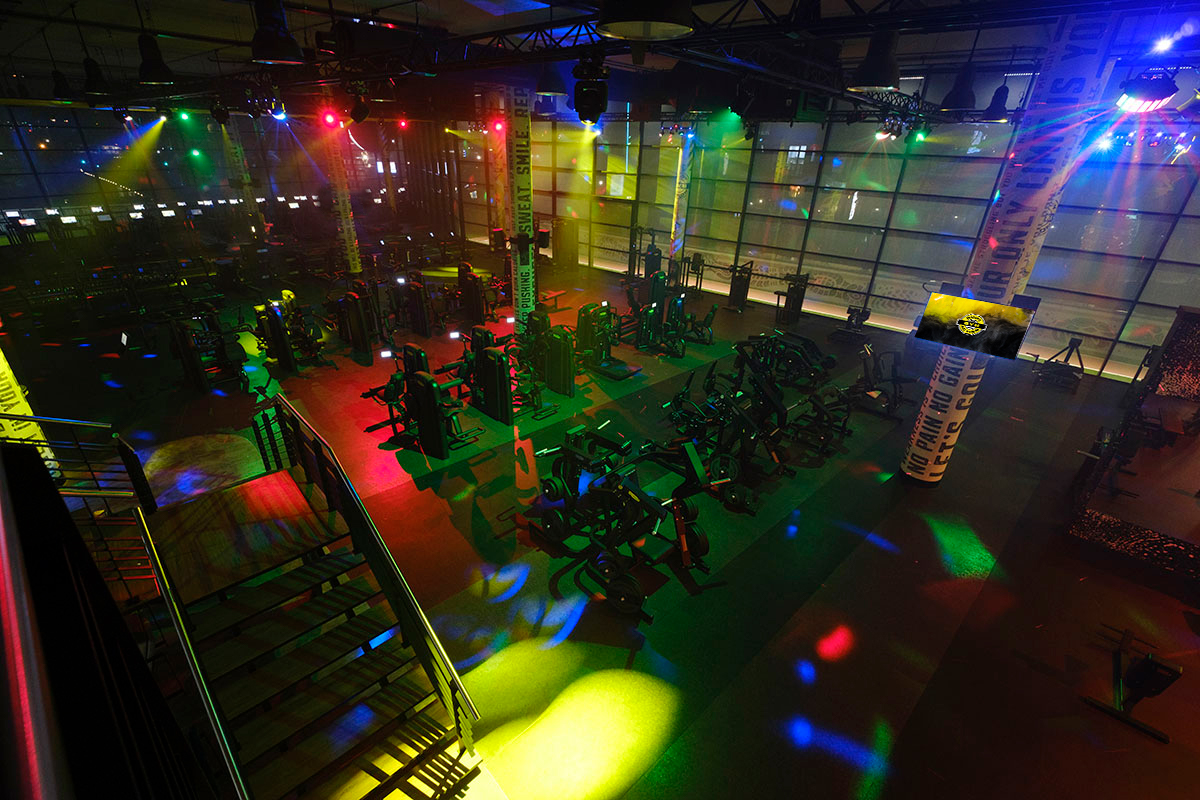 The newly opened Body Action Gym, located in Bedfordview, is a six-star, state-of-the-art wellness facility which provides access to world-class fitness equipment, personalized nutritional guidance, and a lifestyle environment like no other. The gym boasts 5000m2 of cardio and weight training space; an array of dedicated aerobic, yoga, Pilates, HIIT and spinning studios; an open-air basketball court, boxing ring, 50m sprint track and outdoor elite fitness training area; as well as a kids area, in-house café and apparel shop.
Body Action Gym have created an extraordinary experience for their members, showcasing a gym facility like no other. A main focus is on the various entertainment systems which need to seamlessly integrate into the gym's overall vision for the facility.
John Greaves, Audio Specialist at Audiosure, explains the various factors which lead to the elaborate audio system design. "We were trying to achieve an extremely high-quality, distributed, multi-zone, multi-purpose, state-of-the-art audio solution which would allow each area of the gym to have audio functioning either independently or collectively, at the touch of a button". The Audiosure Solutions team worked closely with Craig Harris and Mark Bracco from Audiobility, specialists in control automation, to help turn Body Action Gym's vision into reality. "Craig and Mark wrote custom code to allow audio source selection and volume control from multiple tablets, which are strategically positioned throughout the entire venue," John said.
The Audiosure Solutions team had to be cognizant of the fact that the gym sits across three floors of a multi-story building, which is shared with corporate offices. This posed a slight issue for the team, as the audio system needed to deliver club-level sound when guest DJ's are playing, whilst at the same time not disturbing the occupants of the offices above. John added, "Structural transference was the gyms biggest concern, so we needed to make sure that we isolated the speakers and subwoofers from any concrete surfaces." This was achieved with the use of rubber mounts and steel suspension rope, and helped prevent any vibrations from being transferred through the concrete to the adjacent floors.
Martin Audio, a prestigious award-winning British loudspeaker manufacturer, has an extensive record of successful installations around the world. Martin Audio systems address coverage challenges efficiently, providing solutions which deliver a superior audio experience and can solve acoustic challenges that any venue may present. The main gym area consists of sixteen Blackline X8's mounted to custom column clamps, as well as six Blackline X118 subwoofers suspended from the concrete slab. The entire solution is controlled by a DX0.5 speaker management system, allowing complete control of processing functions such as EQ, crossover and system protection. Each of the studios are equipped with a pair of powered Blackline XP12's, providing 1300W of class-leading sound from an extremely compact enclosure. The XP12's are all pole mounted from the ceiling, utilizing rubber mounts mentioned above. The surrounding areas, including the indoor boxing area, outdoor CrossFit section, outdoor running track and basketball court utilized a combination of DSPPA 8062 and 6064 cabinet speakers. Qbit CSL611T ceiling speakers were installed in the coffee shop, merchandise store, kids play area, bathrooms and elevator lobbies.
Audiosure Lighting Specialist, Jaco Grobbelaar-Brand, relished in the opportunity to design a lighting system which would encompass all of Body Action Gym's requests. "The client asked for an extravagant lighting system," Jaco said. "They wanted to be able to use the lights and haze machines at any time of the day, or night, so we provided the customer with a completely configurable setup." A 100 metre truss structure was designed and installed, allowing for a variety of ChauvetDJ fixtures to be hung above the main area of the gym. Twelve Intimidator Spots 360's, nine GigBar2's and eight Eve P-130's were set across the truss structure, to provide adequate coverage across the floor space. Four custom, corporate gobos were manufactured and installed into four of the Intimidator Spot 360's, to allow the Body Action Gym logo to be proudly displayed throughout the facility. A total of six Chauvet Professional Amhaze Stadiums installed within the facility; four of which have been custom built into the flush-plastered bulkhead, the other two are suspended from the concrete slab.
A single ChauvetDJ DataStream 4 is housed in the main equipment rack in the server room, alongside all relevant system processing and relevant amplification. A custom DJ stand was also manufactured, housing both a Chamsys QuickQ20 lighting controller, as well as professional DJ equipment.
AKG WMS420 Belt-pack Transmitter Systems were selected for the smaller specialist rooms and paired with the C555L Headset Microphones for the trainers. The main room and CrossFit ares are both fitted with the WMS470 systems which are more geared towards live performances. The large main gym area is covered by a single WMS470 D5 Handheld Vocal microphone system, paired with an APS4 antennae management matrix with the antenna mounted high to opposite points on the ceiling truss. This offers an extremely wide coverage to all corners of the training floor area so that guest DJ's and trainers can move around freely. Then, for the CrossFit area, the WMS470 Sports set was selected, it includes the AKG C544 Sweat Resistant Head-worn Microphone paired with the compact PT470 Belt-pack transmitter and also features the APS4 Antennae management system with one antennae covering the entire outside training area and the other paddle covering the indoor section.
Greg Payne, Director at Audiosure, says it was an absolute pleasure being part of this project. "From conceptualization to completion, the outcome was exactly how we had planned it. Audiosure is privileged to distribute some of the worlds leading audio and lighting brands and being able to incorporate these brands into this project meant that the result was pure perfection." Greg added, "A big thank you to John Greaves who project managed this installation flawlessly. Thanks also goes to Jason Hatchuel who managed the sales process from start to finish, ensuring that our partner was always up to date date and that product was always available on site. Body Action Gym has arguably the best gym offering in the country and we are proud to be a part of this project".