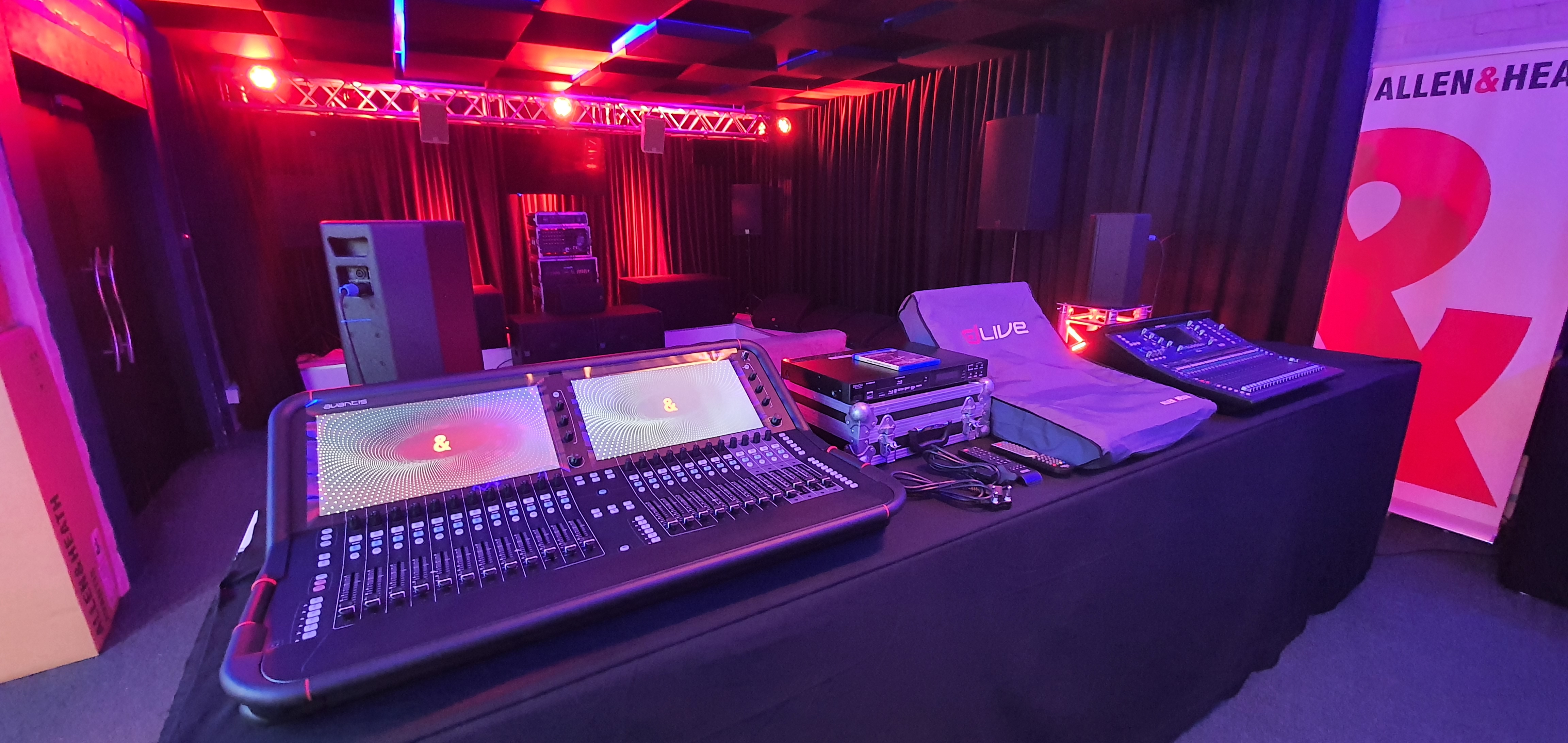 The product specialists at Audiosure have been hard at work refitting and configuring the High End Showroom at the offices in Midrand. The team no only had a hand not only in the spec'ing the array of gear for the space but also for the measuring and fitting of the acoustic curtains, and in welding the metal frames for the diffusion panels suspending from the ceiling. These crucial elements have proved pivotal in preparing the space for a 5.1 Surround setup using Martin Audio, XTA Processing, Allen & Heath and Denon Professional to build an immersive space that can keep the pace with some of the best hi-fi brands in the world.
The source is the best selling Denon Professional DN-500 BDmk2 player which can handle an assortment of formats from Blu-Ray, DVD, CD, SD or USB effortlessly.  Next link in the chain is the Allen & Heath dLive C-1500 to mix the incoming feed into 5.1. With its custom Harmony User Interface it integrates a professional 12″ touchscreen offering full gesture control so you can pinch, swipe, drag 'n drop and navigate around as though you were on a smart phone.  The C Class remains true to the core dLive design mission to create a digital mixing system that makes the most sophisticated mixing challenges feel elegantly simple. This feeds to the MC2 Delta 40 DSP amplifier which also features powerful processing features , such a FIR filtering and Dante networking alongside unique enhancements including 4 local + 4 Aux DSP channels, meaning a single Delta DSP amplifier can control a system with no external processing.
The final port of call is to the Martin Audio Blackline speakers. Starting with two of the Blackline X118 Subs to provide bass reinforcement these are coupled with a Blackline X8 as a center speaker with two X115 flanking the left and right fields. The rear speakers are the Blackline X8 to complete the surround config.
While the aim was to be able play and demonstrate the capabilities of  5.1, the specialists took the time to make sure the full range of Allen & Heath Desks are on display and ready to be routed so the brand new Avantis desk, lives alongside the dLive C1500, SQ-6 and QU-16C models to span the entire digital desk catalog . The AKG WMS470 vocal system is also connected with its award winning D5 performance capsule. The Martin Audio ICON iK42 amplifier is installed and ready to run demos as an alternative to the XTA Delta DSP range. The most popular Martin Audio Loudspeakers are all setup from the Blackline X passive 8's to the new Blackline X Powered 12″s, 15″s and 18″ Subs to the high quality CCD Live! range and we fill it out with new Adorn range.
If you are in Johannesburg give us a call and set up an appointment with our team and come and experience the space with our team of specialists.