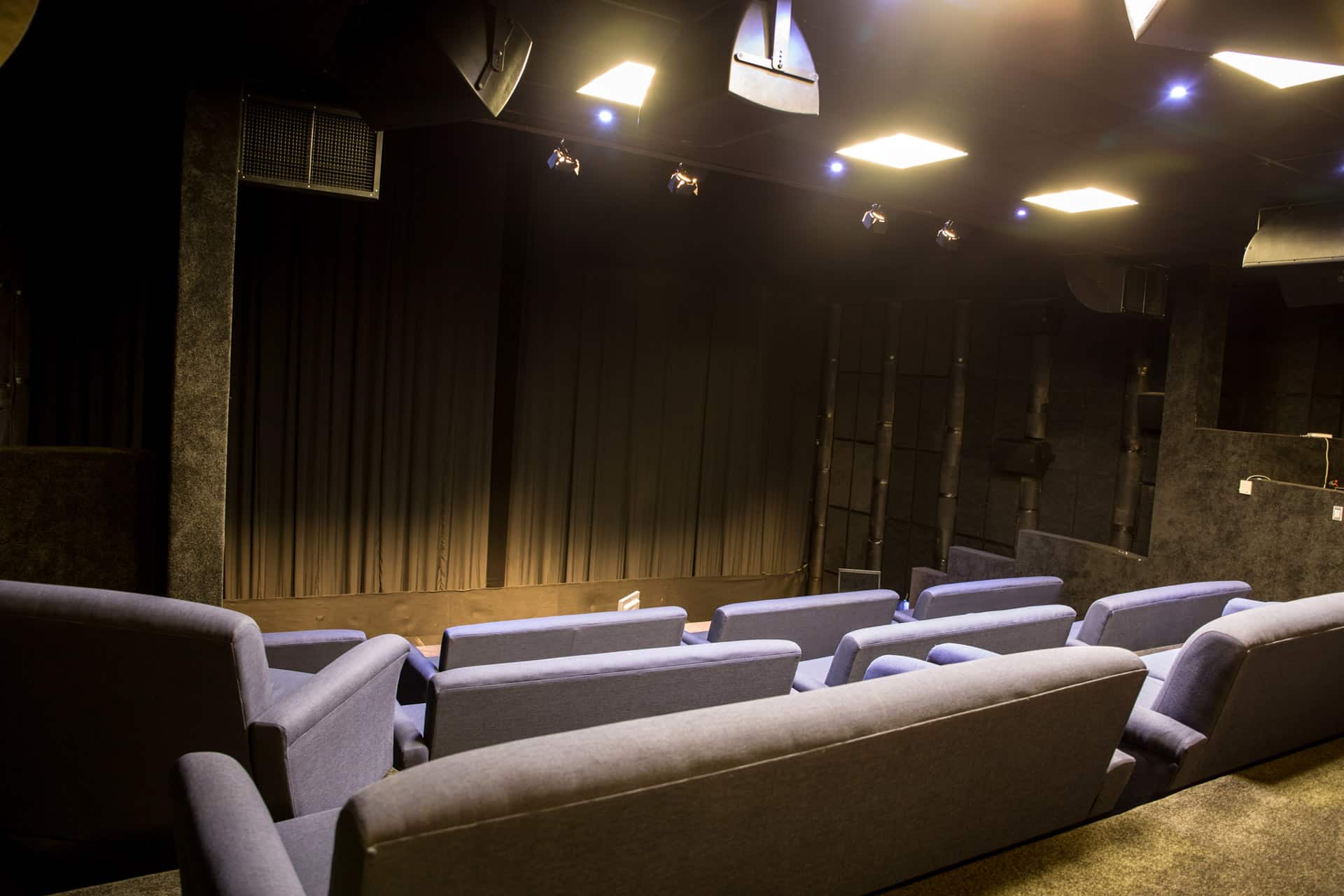 Nestled unassumingly in a leafy suburb of Northern Johannesburg lies a spectacular final mix theatre for film called Beyond Sound. The facility is available for Post Production, Recording and Production for both video and audio and is the only Immersive Sound Auro3D® certified studio on the continent. What makes this space extra special is its inclusion of Martin Audio loudspeakers and Digital Amplification throughout, something that was integral to the high spec that was being aimed for.
Tom Crosswell of Music Mate Solutions was the go-to guy for system design and audio architecture and he was central to the entire installation and configuration of the system. We stopped by the facility to chat to him about what makes this system special and to see what role Martin Audio played in the studio. Starting in the low-end, the system takes advantage of four Martin Audio ASX 21 subwoofers that are DSP controlled.
"Each is individually controlled off its own Martin Audio DSP-controlled amplifier," says Crosswell. "They have a very unique feedback circuit in them that has a microphone that measures what the cone is doing and provides correction. It's a very, very interesting box; extremely powerful and loud."
There are six screen channels arranged in a grid array of two rows of three elements in order to support the Aura 11.1 and 13.1 formats along with Dolby Atmos. It is what Crosswell calls a hybrid Martin Audio Screen 6B system. The outer speakers in the array have been splayed to supply the correct angles of dispersion for the various formats the theatre is setup to work within.
"By hybrid what I mean is that there is a left, centre, right screen lower and a left, centre, right screen upper," explains Crosswell. "So there are six channels behind the screen but because of the weight and size limitations we have used the LF section of the Screen 6 system as a common shared driver pack between the low channel and the high channel. So, we actually mix the low channel and the high channel into the same system. It's had its own set of challenges because of time alignment issues but we've got it working pretty well."
What makes the array behind the screen unique is that it is arranged on a moveable grid via a motor system. This is to accommodate several different surround/3D audio formats in order to make the mixing capabilities of the theatre more versatile. In fact, this is one of the only theatres in the world to offer such a feature.
"The entire grid can be moved as one entity," says Crosswell.
Moving onto the surround sections of the theatre, it is far more complex than your average 5.1 setup. Three different models of Martin Audio loudspeakers were installed to facilitate the many channels that are required for modern surround sound theatre mixing. Fourteen Martin Audio CDD15s in landscape orientation with 90 degree rotated horns handle the side surround and the upper side surround channels. For the rear surround and rear upper surround channels, Martin Audio AQ15s were deployed. An interesting aspect to these speakers was that because of the extremely low noise floor in the theatre it was found that the grills were audibly ringing slightly. Ordinarily in other situations where the noise floor isn't an issue it would go unnoticed but because of this, Crosswell opted to remove the grills and run them "naked" as he puts them. This attests to the attention to detail that was employed when installing the system.
To accommodate the Dolby Atmos format two additional Martin Audio CDD12s were added as additional rear channels.
A main component in mixing formats such as Dolby Atmos and Auro-3D (includes a variety of Auro-based formats), is what is termed the "voice of God" channels. These are the overhead channels that are used to localise audio events and sounds above the heads of the audience. It is a crucial component in creating true three-dimensional sound and is what makes audio formats such as these impressive and immersive.
"In the front section of the cinema we have four AQ15s as top channels," explains Crosswell. "And then in the lower section we have two CDD15s as the top channels. So there are six voice of God channels in total."
Crosswell goes on to explain that each speaker is fed off of its own discrete amplifier and DSP channel so they can each be EQ'd and time-aligned individually through a massive cross-point matrix delay.
"We can actually setup different profiles with different delay times," adds Crosswell. "So we can literally position any speaker acoustically almost wherever we want. That is all done with a QSC QSYS (500i Core with expander). It has the horsepower to handle that amount of processing."
The system, in total, is run on around 320,000W of amplification; comparable to some of the largest touring and festival rigs found throughout the world and a mind-boggling feat for a film theatre. The screen, voice of God and subwoofer channels are all run off of a combination of three Martin Audio MA12K and five MA18K DSP amplifiers. However, the DSP cards were removed from these amplifiers as Crosswell found that they ran quieter without them. The goal was to get the system as quiet as possible and this was another detail that was considered and executed to get the noise floor as low as it now is. Because as we all know, system noise is a cumulative effect. The surround channels are all driven by seven MC2 E100 amplifiers. The subwoofers are processed by an XTA 448.
Martin Audio and XTA are distributed by Audiosure in Southern Africa. Please visit www.audiosure.co.za for more information or to get in touch with the sales team.