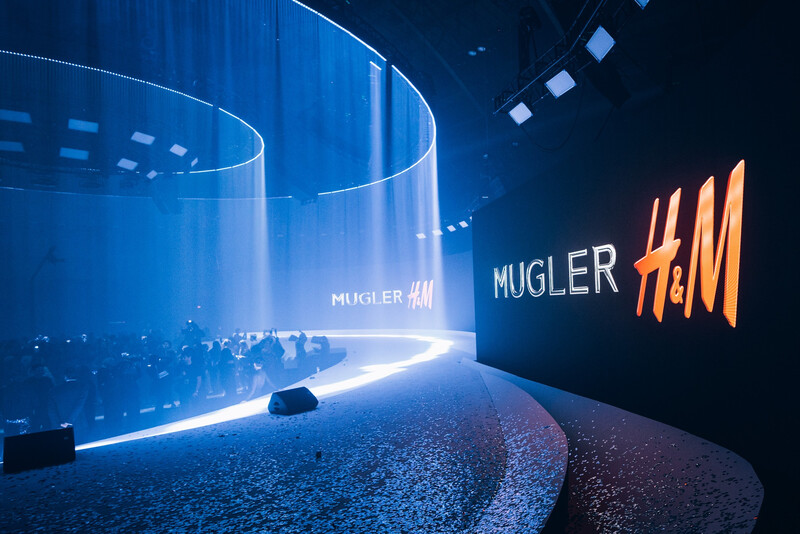 NEW YORK – High fashion is constantly changing, evolving, and pushing boundaries in new directions. Now fashion runway shows are following the same bold, adventurous course, integrating headliner acts and outside-the-box design concepts into their overall presentations.
This was clearly and dramatically evident in the breakthrough event fashion design house Mugler and global retailer H&M held at Manhattan's Park Avenue Armory earlier this spring to introduce their collaboration, which will drop on May 11
Breaking with precedent and rewriting the rules of runways, this show, which featured a scenic design by Niklas Bildstein Zaar and his Berlin-based team at SUB, commanded the attention of A-list guests like Pamela Anderson, Charli XCX, and Chloë Sevigny, as soon as they entered the space. The design, which in the words of one NY critic, "looked more like a concert space than a catwalk," was an elegant balance of art and technology with its circular set, spiral runways, four large, curved video screens, and a mosh-pit like space at its center.
Adding emotional power to this unique panorama, and pulling its diverse elements together was an evocative and intricately detailed lighting design by Seth Bernstein that featured over 120 CHAUVET Professional COLORado PXL Bar fixtures supplied by 4Wall Entertainment.
Like the other fixtures in the rig, including its 24 Maverick MK3 Profiles, the PXL Bars themselves were deliberately conspicuous in the design. "The main design principle of this show was 'revealing the technology," said Bernstein. "So, we were intentionally making choices to reveal show elements that are normally hidden. Lights were constantly shining through line arrays and trusses to create texture, which is something we normally avoid at all costs! Additionally, the scenic crew went back and added additional 'cables' to the rig for added texture between layers of trusses."
By skillfully deploying these linear COLORado PXL units, Bernstein was able to create a consistent level of light throughout the distinctively curved design. "For this event, our creative directors envisioned a huge circular "light curtain" to open and close the show, but I really wanted this element to come back in different forms," he said. "With our 267-foot circumference of PXL bars, it occurred to me that the design possibilities were nearly limitless!"
Bernstein worked hard to devise a way to use his 115 COLORado PXL Bar 16 and eight PXL Bar 8 fixtures to create the circles of light that were so critical to the design. "A challenge with automated batten fixtures on circle trusses is that their tilt motors collide when placed too close together," he said. However, to make a 'circular light curtain' we needed to get the fixtures right against each other. This is normally a big no-no because the fixtures can't 'home' and shut down, but I had this crazy idea to boot up the PXL bars in sets. The rigging company delivered a segment of the circle to 4Wall, and we tested the concept with lots of help from Sarah Arnold, our Local 1 production electrician, and Mark Butts, our programmer. Together we made the magic work."
The design team relied on the Park Avenue Armory itself to add impact to its circular concept. "We were influenced by the armory," said Bernstein. "Our circular light curtain was aligned in elevation with the low point of the building's arched ceiling. This allowed us to shrink the space and then "open it up" by turning on lights at higher elevations. Also, since this is one of the last available clear span spaces with no columns in New York City, the wraparound design wouldn't really have been possible in anywhere else, except in an arena or soundstage."
It's beneficial features not withstanding, the armory also posed some challenges to the production crew because of its limited roof load capacity. "Almost every truss eventually needs a complex bridle to link the major beams at the armory," said Bernstein. "Therefore, every light at this event had to serve multiple purposes. Every fixture had to zoom down and make beams but also be able to zoom out and wash."
Despite this hurdle, and the ever-present time pressure (every variety show is a "race against the clock," as Bernstein noted), he and the design team were able to create an engaging atmosphere that was like no other anyone, even this sophisticated audience, had ever encountered before.
When the show began, the members of that audience, who were gathered in the middle of the space, saw models wearing the stunning Casey Cadwallader-designed Mugler fashions, behind a screen illuminated by white light from Cyc fixtures. This was the first impression they had of the fashion show. They next saw a massive amount of light coming over the screen in the haze, as the models began coming into full view.
There was a definite magic to this scene… a magic that arises not from following precedent, but by setting a new path. In this case, a path that is spiral rather than a straight catwalk.
Seth Bernstein Creates Unique Looks for Mugler/H&M Show With 4Wall and CHAUVET Professional | CHAUVET Professional